Posts by this Contributor
13 May 2011
Posted by | Topic: Agronomy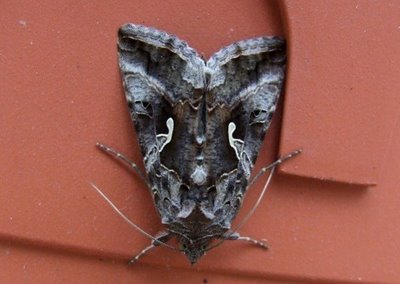 According to a Purdue Extension Entomologist, the presence of the
Black Cutworm Moth
has never been greater. Cooperators throughout the state have been catching abnormally large numbers of these moths over the past few weeks with pheromone traps.
The Purdue Newsletter article
informs us that barren fields are not an appealing place to lay eggs, however, the black cutworm has a broad range of hosts so fields showing green, yellow and purple weeds are still at the highest risk. The moths are also particularly attracted to winter annuals, such as chickweed and mustards.
"Remember, corn is one of the black cutworm's least favorite foods," Krupke said. "It just so happens it is the only plant remaining by the time larvae have emerged and weeds have been killed."
Typically, cutworm larvae will starve if weeds are treated with tillage or herbicide two to three weeks before corn emerges, but with the wet Indiana spring, Krupke said it is already too late for that.
He also suggested farmers pay attention to seed-applied insecticide and Bt corn labels to determine management strategies so farmers don't get a false sense of security. They need to know what they're getting.
With so little of the state's corn crop in the ground right now, Krupke said it would be awhile before growers start to see black cutworm damage. He encouraged scouting fields once crops are planted and determining control strategies as the season progresses.
Meanwhile, cooperatives are going to continue to work with the traps and keep us posted on what's going on in the coming weeks.
For up-to-date black cutworm scouting and treatment guidelines, watch future issues of the Purdue Pest and Crop Newsletter at
http://extension.entm.purdue.edu/pestcrop/index.html
Photo from
Something Wonderful

Like it. Share it. Tweet it. Buzz it. Digg it.