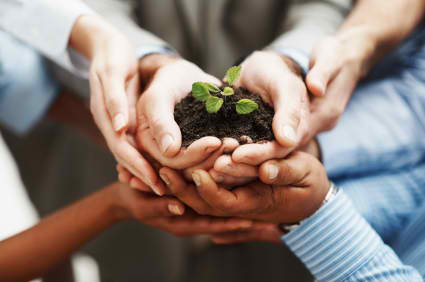 Career Solutions understands that growing doesn't just involve big farms and rural areas. More and more urban areas are developing 'urban gardens' in their communities to foster growth, better health, and community responsibility.
As part of
Let's Move! Faith and Communities
, First Lady Michelle Obama has challenged congregations and neighborhood organizations to plant gardens in their communities.
According to the Let's Move Blog,
there are many positive benefits to starting a community garden: increasing access to healthy, fresh food; improving soil and water quality; providing exercise for people within a wide range of physical ability; and creating the opportunity to teach about nutrition, agriculture, and ecology. In short, starting a garden can help make real and lasting change in communities.
To learn more about the "how-to" for starting a new garden, the
University of California Cooperative Extension's Community Garden Start-Up Guide
provides guidance on how to organize a sustainable garden site in your neighborhood.
Here are some more stories from Earth Eats to help you get started in the right direction: Urban agriculture is great way to eat local and reduce your food miles while supporting your local community. Here are some inspirational urban agriculture projects that have been in the news recently…
Stories
How exciting to be able to make a difference in other people's lives and your community. To learn about different community gardens that you could be a part of or to start a new project, visit the USDA coverage on the First Lady initiative.